Many people often think that marketing is only related to the promotion or advertising a business, but the fact is that the promotion and advertising are just two of the many areas covered by the marketing.
Overall, marketing  is the set of activities that allow a company to find a market to go and serve you in the best way possible.
Examples of these activities are seeking business opportunities, analysis of consumers, competitive analysis, product design, product promotion and product distribution.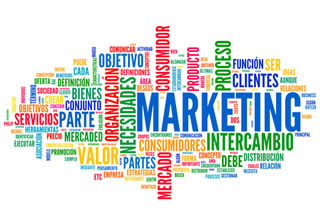 So when you are looking for business opportunities, analyzing consumers and competition, and designing, promoting and distributing products, it can be said that it is "applying the marketing."
But this explanation has not yet become clear what the marketing, the best way we can understand their concept is through knowledge of its main functions.
Let's look at what are the main functions of marketing, in other words, what are the main features of the area, department or persons responsible for marketing in a company are:
Search for business opportunities
The first function of marketing is to find, identify and analyze business opportunities that may exist in the market.
This search for business opportunities is through a market research to identify and analyze needs, problems, desires, changes and trends in the market. For example:
the need to save energy could mean the opportunity to develop products which address this need.
the problem of the lack of security could mean the opportunity to offer services to help deal with this problem.
the desire to wear unique, original and innovative clothing could mean the opportunity to start a clothing business meets that desire.
changes in consumer preferences for healthy foods could mean the opportunity to start a business healthy food.
the trend of increasing numbers of elderly people would mean the opportunity to create a business dedicated to these people.
They often think that only business opportunities include opportunities to start a new business;however, they also occur when there is already a going concern;for example, when given opportunities to create a new product, breaking into a new market, or bet on a new line of business.
---
Consumer analysis
The second function of marketing is to analyze consumers , which involves analyzing your needs, tastes, preferences, desires, habits, purchasing behavior (where they buy, when they buy, how often they buy, why they buy), customs and attitudes.
The consumer analysis allows a company to know them better and, thereby, to design strategies that allow you to meet your needs, tastes, preferences and desires, or to take into account its other characteristics. For example, you can:
identify new needs or desires in them and thus be able to design new products to be responsible for meeting these needs or desires.
detect changes in their tastes and preferences, and thus to adapt existing products to such changes.
detect trends in their purchasing behavior and, thus, to select sales channels based on these trends.
Note that this feature of the analysis of consumers and does not always permanently through a thorough market research, but also, for example, observing their behavior at the point of sales, talk to them, or make small surveys.
---
Competitive Analysis
The following function of marketing is to analyze the competition , which involves analyzing your location, target audience, sales volume, market share, market experience, skills, resources, main strategies, competitive advantages, strengths and weaknesses.
The competitive analysis allows a company to know her better and, thereby, to design strategies that allow them to adequately compete with it. For example, you can:
know its main strengths and, thus, they can focus on other aspects that could better compete with it.
know its main weaknesses and thus able to take advantage of these (for example, if you discover that their production costs are high, you may choose to reduce their prices).
know the strategies that are giving you better results and thus be able to take them as a reference for developing their own.
Like the consumer analysis, analysis of competition is also constantly performs and not always through extensive market research, but also, for example, to visit their premises, buy your products, or chat with their former workers.
---
Design of marketing strategies
This function is to formulate, evaluate and select marketing strategies that would meet the needs, tastes, preferences and desires of consumers and taking into account its other characteristics, and that adequately compete with the competition.
For a better analysis, marketing strategies are usually classified into strategies for the four elements of the marketing mix (product, price, distribution and promotion):
product strategies : include, for example, add new features or attributes of the product, launch a new product line, or offer complementary services such as home delivery service.
strategies for Price : include, for example, cut prices to boost sales, raise prices in order to increase the sense of quality in the product, or offer discounts for volume purchases.
distribution strategies : include, for example, working with intermediaries in order to increase the coverage of the product, open new points of sale, or purchase new vehicles dealers.
promotion strategies : include, for example, offering sales promotions such as offering to carry two products for the price of one, to advertise on the Internet, or have tasting stations.
It should be noted that in addition to consumer analysis and competitive analysis, when designing marketing strategies are also taken into account the capabilities and resources (human, financial, technological, etc.) resources are there in the company .
---
Implementation, monitoring and evaluation of the strategies
Finally, the function implementation is to implement marketing strategies, for which the necessary steps for implementation are set first to use the resources allocated, the deadlines are determined and calculated the budget required.
And then, the tasks necessary for the implementation are organized, resources are distributed, those responsible are named and managers, coordinate activities, and the implementation of strategies directed.
The control function is to ensure that strategies are being implemented correctly according to the steps provided for and within the agreed deadlines, and that the personnel responsible for implementation is doing well both individually and in groups.
And the evaluation function is to check that the results match the expected results, for otherwise the corrective measures or, in any case, are designed and implemented new marketing strategies are taken.